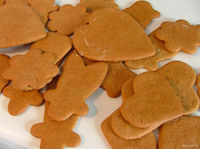 Lebkuchen are traditional German Christmas cookies similar to gingerbread, which were probably invented by Medieval monks in Franconia, Germany in the 13th century. Lebkuchen bakers were recorded as early as 1296 in Ulm, and 1395 in Nuremberg, the latter being the most famous Lebkuchen exporter today.
Sometimes Lebkuchen are packaged in richly decorated nostalgic tins and boxes which have become collectors' items. Lebkuchen range in taste from spicy to sweet and come in a variety of shapes with round being the most common. The ingredients usually include honey, spices and nuts, almonds or candied fruit. Salt of Hartshorn and Potash are often used for raising the dough. The Lebkuchen dough is often placed on a thin wafer base called Oblate. This was an idea of the monks who used communion wafers to prevent the dough from sticking.
The forerunner of today's Lebkuchen was called 'honey cake' and its history can be traced back to the Egyptians, the Greeks and the Romans. They believed that honey, the only widely available very sweet food, was a gift of the gods and had magical and healing powers. Honey cakes were also worn as a talisman in battle or as protection against evil spirits. Teutonic peoples used honey cakes for the same purpose, especially around the winter solstice, which might be the reason Lebkuchen became associated with Christmas.
Since 1808, Nuremberg gingerbread of the best quality is called Elisenlebkuchen. It is uncertain whether the name Elise refers to the daughter of a gingerbread baker or the wife of a margrave. Since 1996, Nürnberger Lebkuchen is a Protected Designation of Origin.
Lebkuchen are usually soft, but a very hard and generally inedible type of Lebkuchen is used to produce Lebkuchen hearts, usually inscribed with icing, which are available at many German fairs and the witch houses made popular by Hansel and Gretel. The closest German equivalent of the gingerbread man is the Honigkuchenpferd (honey cake horse).
The etymology of the term Lebkuchen is uncertain, but derivations from the Latin libum (flat bread) and from the Germanic word Laib (loaf) have been proposed. Another likely possibility is that it comes from the old term Leb-Honig, the rather solid crystallized honey taken from the hive, that can not be used for much besides baking. Folk etymology often associates it with Leben (life), and many people in Germany seem to think that eating it is a good cure for winter depression.
Historically, Lebkuchen was also known as honey cake (Honigkuchen) and pepper cake (Pfefferkuchen
Lebkuchen Recipe
Ingredientss
1 eggg
3/4 cup brown sugar
1/2 cup honey
1/2 cup dark molasses
3 cups sifted all-purpose flour
1/2 teaspoon baking soda
1 1/4 teaspoons ground nutmeg
1 1/4 teaspoons ground cinnamon
1/2 teaspoon ground cloves
1/2 teaspoon ground allspice
1/2 cup slivered almonds
1/2 cup candied mixed fruit peel, finely chopped
1 egg white, beaten
1 tablespoon lemon juice
1/2 teaspoon lemon zest
1 1/2 cups sifted confectioners' sugar
Directions
In a large bowl, beat the egg, brown sugar and honey until smooth. Stir in the molasses. Combine the flour, baking soda, nutmeg, cinnamon, cloves and allspice; stir into the molasses mixture. Stir in the almonds and candied fruit peel. Cover or wrap dough, and chill overnight.

Preheat the oven to 400 degrees F (200 degrees C). Grease cookie sheets. On a lightly floured surface, roll the dough out to 1/4 inch in thickness. Cut into 2x3 inch rectangles. Place cookies 1 1/2 inches apart onto cookie sheets.

Bake for 10 to 12 minutes in the preheated oven, until firm. While still warm, brush the cookies with the lemon glaze.

To make the glaze: In a small bowl, stir together the egg white, lemon juice and lemon zest. Mix in the confectioners' sugar until smooth. Brush over cookies.
---